Forging steel ball process
The whole bar is heated in the medium frequency induction furnace —— hot cutting of bar shearing machine - pre-forging of air hammer - final forging of air hammer - subsequent heat treatment. the forging process of The air hammer is suitable for all kinds diameter of steel balls, especially large diameter and very large diameter steel balls. in one equipment, the steel balls with large diameter span can be produced and the process is flexible and suitable for various batch production.
In the process, in order to improve efficiency, we design a air hammer for pre -forging, and another air hammer for final forging. But in fact, a pneumatic hammer can also complete to forge.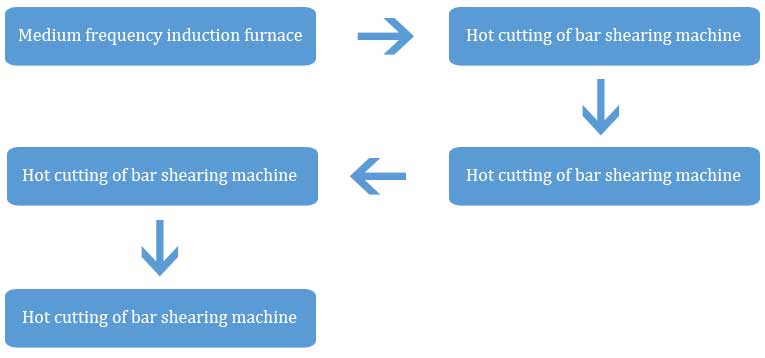 Steel Ball Forging Line Flow Chart
Rolling steel ball process
The rolling ball is the process of continuous deformation of the heated bar on the skew rolling mill to obtain the steel ball, the process is as follows:
The whole bar heating of medium frequency induction furnace - continuous rolling of skew rolling mill - subsequent heat treatment
The automation degree of rolling ball is very high, the production efficiency is much higher than the forging line, can produce the diameter of Ф125mm below the ball, rolling ball production line is also used for mass production, have a high requirements for the power of the production workshop
Forging and rolling steel ball process
Heating of whole bar in the medium frequency induction furnace —— hot shear of hydraulic shear - pre - forged steel ball of press ( high direction forming ellipse length ) - roll mill rounding forming - follow - up heat treatment
The rolling process can also be used to produce steel balls of various diameters, but for the reason of investment and efficiency, it is usually used to produce Ф 100 - Ф 200 mm diameter steel balls, which has achieved a better return on investment.
General heat treatment process about steel ball
The purpose of heat treatment of steel ball is to obtain the steel ball with high hardness and certain impact toughness, and adopt quenching process. The steel balls produced by various processes in order to improve the hardness and harden ability. The material uses high carbon and high chromium steel, before the forging and rolling, the heating temperature of 950 - 1050 ℃, after forging ,isothermal to 800 ℃, quenching, and then low temperature tempering.
Isothermal and quenching adopt continuous process, isothermal machine and quenching machine are connected in series with the production line, and the reasonable matching efficiency is obtained. the low temperature tempering has two forms, namely, online low temperature tempering and off-line low temperature tempering, which are related to the production, equipment floor area and other factors.
| | | | | | | | | | | |
| --- | --- | --- | --- | --- | --- | --- | --- | --- | --- | --- |
| | Steel Ball Surface Quality | Quality of Steel Ball Center | Productivity | Dynamic Matching | Manual Skill Requirements | Manyal Labor Intensity | Adaptive Batch | Adapt to the Diameter of Steel Ball | Investment Intensity | Process Flexibility |
| Forging steel ball | best | best | low | low | high | high | medium and small quantity | All diameter | low | good |
| Rolling steel ball | general | general | high | high | general | low | large quantities | Ф20-125 | high | general |
| Forging and rolling | better | general | medium | medium | general | low | medium l quantities | Ф100-200 | higher | general |
Process comparison
Productivity of various processes
The Productivity Of Forging Steel Ball Production Line
Projects

50-70mm

Forging ball

50-90mm

Forging ball

70-110mm Forging Ball

90-130mm Forging Ball

110-150mm Forging Ball

130-200mm

Forging Ball

150-250mm

Forging Ball

Steel Ball Diameter(mm)

50

60

70

50

60

70

80

90

70

80

90

100

110

90

100

110

120

130

110

120

130

140

150

130

140

150

180

190

200

150

180

190

200

230

250

Productivity(n/min)

8

7

6

10

8

7

5

4

8

6

5

4

3

6

5

4

3

2.4

5

4

3

2.5

2

4

3

3

2

1.5

1

4

3

2

1.5

1

1

Productivity per/h(Kg)

246

373

507

308

426

592

631

719

676

757

898

986

984

1078

1232

1312

1278

1300

1640

1704

1625

1691

1664

2166

2029

2496

2875

2536

1972

3328

4313

3381

2958

2999

3851
The Productivity Of Rolling Steel Ball Production Line
Project

ZQ30

ZQ40

ZQ50

ZQ60

ZQ80

ZQ120

Nominal diameter of blank (mm)

20

25

30

25

30

40

30

40

50

40

50

60

60

70

80

90

100

110

120

productivity(n/min)

110

110

110

110

110

85

110

85

75

85

75

72

70

65

60

50

45

40

40

Productivity per/h(Kg)

244

477

824

477

824

1509

824

1509

2601

1509

2601

4314

4194

6185

8522

10112

12483

14769

19174
The Productivity of Forging and Rolling Steel Ball Production Line
project

ZQ30

ZQ40

ZQ50

ZQ60

ZQ80

ZQ100

ZQ120

Nominal diameter of blank(mm)

20

25

30

25

30

40

30

40

50

40

50

60

60

70

80

70

80

90

100

80

90

100

110

120

productivity(n/min)

4

5

6

7

8

9

10

11

12

13

14

15

16

17

18

19

20

21

22

23

24

25

26

27

Productivity per/h(Kg)

9

22

45

30

60

160

75

195

416

231

485

899

959

1618

2557

1808

2841

4247

6103

3267

4854

6935

9600

12943
Project case
Steel ball production line
Steel ball production line
Steel ball production line
Steel ball production line
Steel ball production line
Steel ball production line
Steel ball production line
Steel ball production line
Equipment connection