What is Automatic Spray Graphite Machine?
The traditional manual graphite spraying method has the problems of uneven spraying, slow efficiency and unsafe spraying, which will affect product quality, dies working life, safety of operator. The automatic spray graphite machine can replace the workers' hand gun. In actual production, on the basis of not adding extra power source, it can spray graphite effectively and evenly inside the thickening mold, and make the forging process lubricative. Reduce forging defective rate effectively, amount of graphite usage and environmental pollution, so as to improve product qualification rate, extend dies working life and reduce production cost.
Spray graphite machine can be used with die lubricating of hot die forging press or electric screw press, employing single position, double positions or three positions, the rotating mechanism using two parallel rotation design.The spray graphite machine has the function of blowing scale and ejecting mould agent.The horizontal drive of spray graphite machine is driven by servo motor, and it has height adjustment function.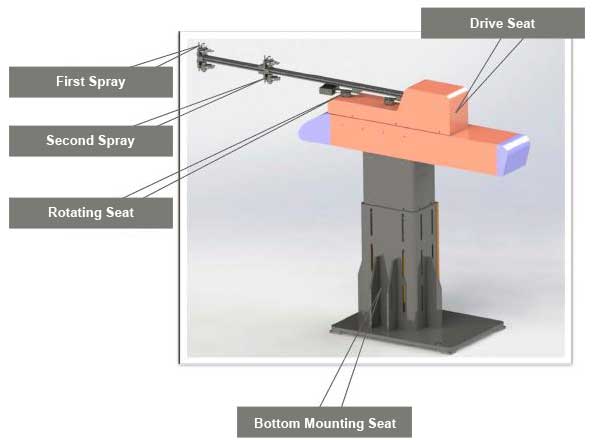 Application of Automatic Spray Graphite Machine
Spray graphite machine can be used for die lubricating of forging press, manual,automatic and semi-automatic production line to solve the problem of uneven ink spraying and uncontrollable graphite quantity, too much graphite on the die will make the liquid flow to hang. The process of spraying is to blow compressed air firstly, then spray graphite evenly, and finally blow compressed air to blow away the excess graphite.
There are many forms of spray graphite machine, sprinkler head can do circular track movement or according to the shape of forging track.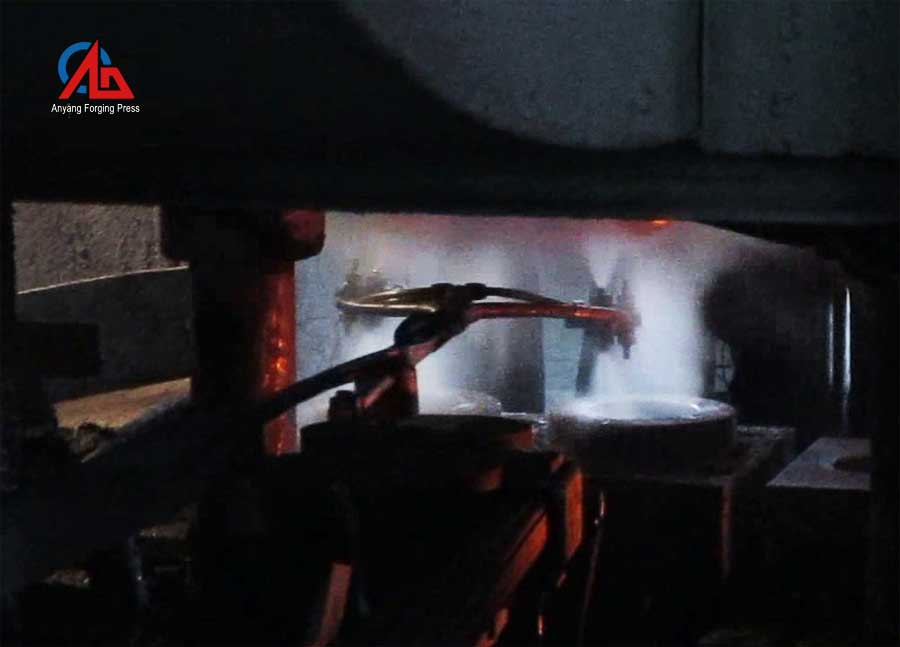 Advantages of Automatic Spray Graphite Machine
Stable and accurate servo system control;
Replace manual operation to save labor cost;
Jet or graphite can be set up freely, working time can be adjusted;
The position of spraying is adjustable and easy to operate;
It can be customized according to customer site.
Main Structure of Automatic Spray Graphite Machine
Spray mechanism
High reliability industrial nozzle; flow of graphite liquid can be adjusted to produce ideal spray without changing the air and liquid pressure.
Built-in valve can prevent dripping at the end effectively; Nozzle parts are interchangeable and easy to disassemble and assemble.
Each station is equipped with two nozzles, and responsible for spraying upper and lower dies.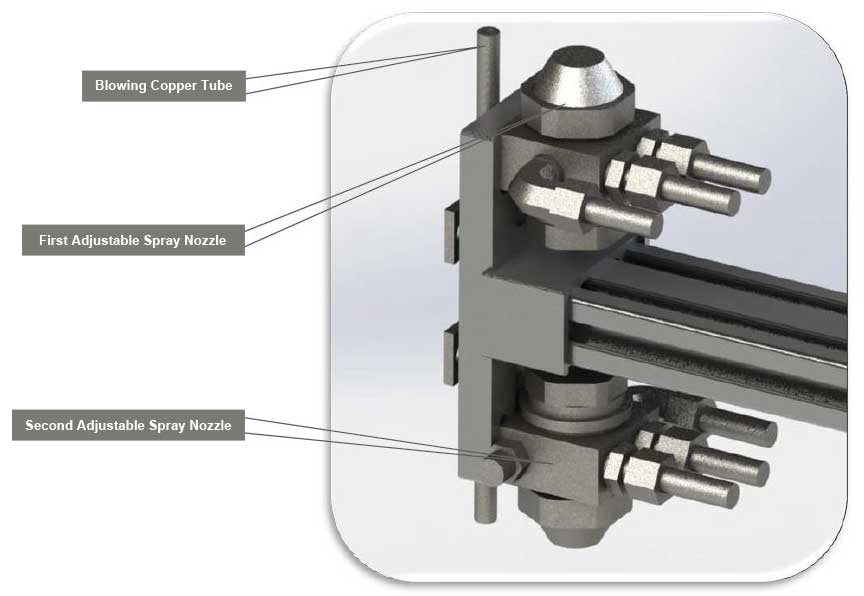 Rotary device
Adopt two-point parallel rotation design;
Pneumatic motor drive;
By adjusting the air pressure of reliable air pressure valve, it's can be convenient to adjust the speed of rotation;
It's easy to adjust the adjustable rotation radius.
At the end of each rotation, it can stop in fixed position;
With counterweight block, stable rotation and uniform speed.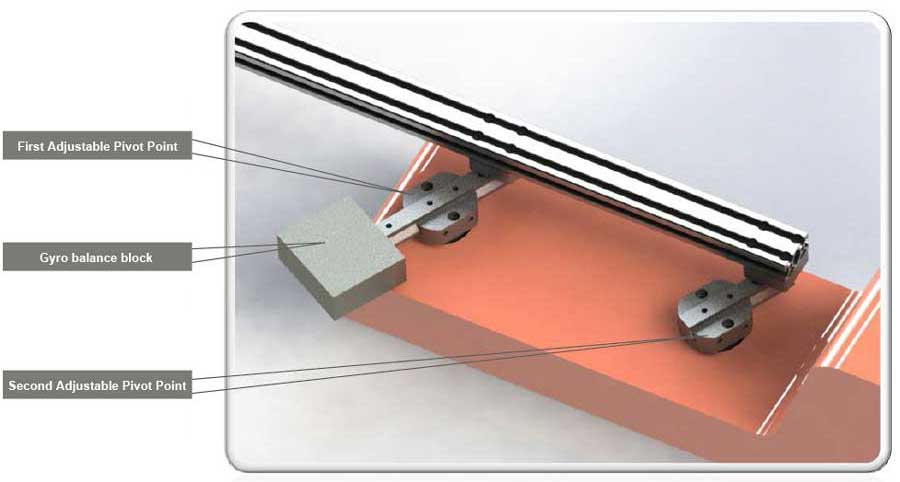 Horizontal drive
Double guide rail design on the top and bottom;
Upper silver linear guide rail;
Silver guide screw;
Servo motor drive, fast speed, high accuracy, convenient stroke setting;
The guide screw is equipped with lubrication device.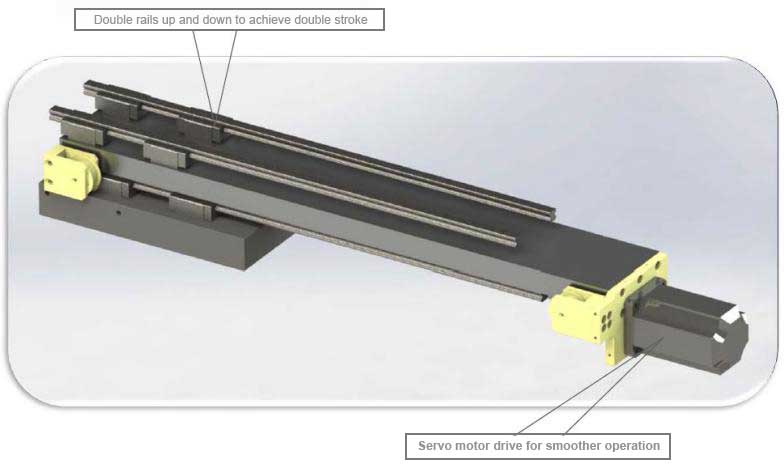 Control system
PLC centralized control, including blowing oxide coating, graphite injection agent, rotary motor control, mixing container control, servo motion control, alarm processing, automatic online interface, safety control;
Various working parameters can be set flexibly through the plug-in touch screen to view various states;
Manual-control remote control box with spraying graphite, emergency stop button; connecting the main engine by aviation plug cable;
The stirred vessel and main engine are connected by aviation plug cable;
External cable interface, automatic online interface clearly identified.