Characteristics and Selecting Method of Impression Die Forging Equipment
2019-07-27 14:39:13
Impression die forging hammer, electric screw press, and hot die forging press are three main die forging machines in forging industry. Although the respective technology have been developed correspondingly for many years, they have different applicability due to the respective performance characteristics.
Name
Steamed Hammer
Electric Screw Press
Hot Die Forging Press
CNC Impression Die Forging Press
Hitting Speed (m/s)
4-7
0.6-0.8
0.3-0.7
4-6
Die Touching Time (m/s)
2-3
30-60

30-60

2-3
Forming Time (m/s)
5-15
30-150
80-120
5-15
Hitting Frequency
80-100
6-15
40-80
80-110
Flexibility
Good
Poor
Poor
Good
Investment Ratio
1
1-2
4
2
Adaptability

Multiple Varieties

Small Batch

Single Variety

Large Batch

Single Variety

Large Batch

Multiple Varieties

Small Batch

Complex Structure
The Simplest
Common
The Most Complicated
Simple
Automation
Poor
Poor
Good
Good
Forging Principle
Formed by Hitting Accumulation
Formed by Hitting Once
Static Pressure Hitting
Formed by Hitting Accumulation
Forging Precision
Poor
Poor
Good
Good
Energy Consumption
15
2-3
3
1
Characteristics of impression die forging hammer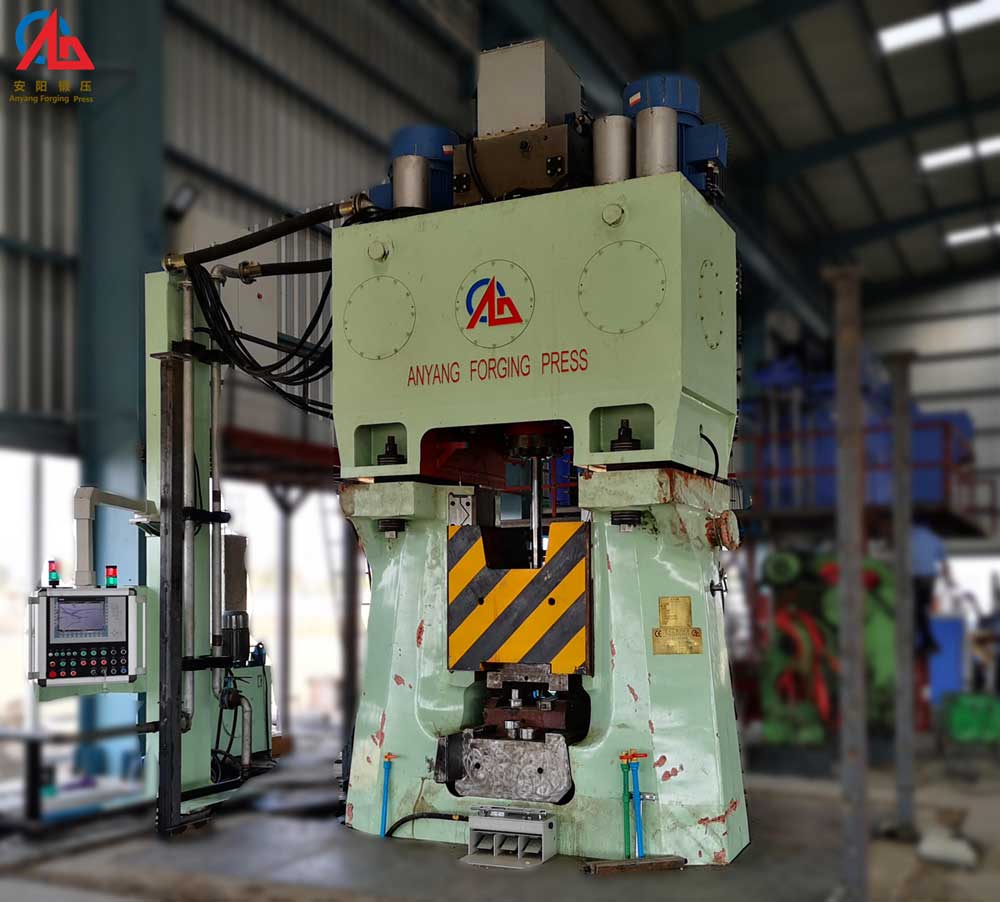 Anyang CNC impression die forging hammer
Die forging hammer can adapt various of forgings more flexibly, so it is suitable for the forging production with multiple varieties and small batch.
Die forging hammer replies on the instantaneous impact force, and has the characteristics that small hammer can make large forgings.
Die forging hammer can be suitable for multi-die cavity forging, saving pre-forging equipment.
Thin-wall forgings need to be formed instantaneously because of the rapid cooling speed. It can only made on closed die forging hammer, if it is made on press, the forgings will harden before forming.
Characteristics of Electrical Screw Press

Anyang Electric Screw Press Forging Line in Russia
Both the slide stroke and hitting energy of electric screw press can be adjusted freely, forgings blanks can be hit many times in one die cavity, thus friction press belongs to forging hammer equipment.wide process performance, it can not only complete forming, bending, pre-forging, final forging and other forming processes, but also carry out correcting, slightly rectifying, trimming, punching and other follow-up processes.
The speed of slide stroke is a little higher than that of hot forging press, much lower than that of impression die forging hammer, and the forging pressure is still close to static pressure property. At the same time, due to the large intertia of flywheel, and low hitting frequency, the production efficiency is low.
The metal can be recrystallized adequately between two forgings, which is suitable for forging some alloy steels and non-ferrous metals with low crystallization rate.
Non-rigid connection between screw and slide, poor ability to withdraw eccentric load, so the electric screw press is suitable for single die cavity forging.
The efficiency of friction transmission is low, only ten percent to fifteen percent. Equipment tonnage is limited, mostly small and medium-sized equipment
Advantages of hot die forging press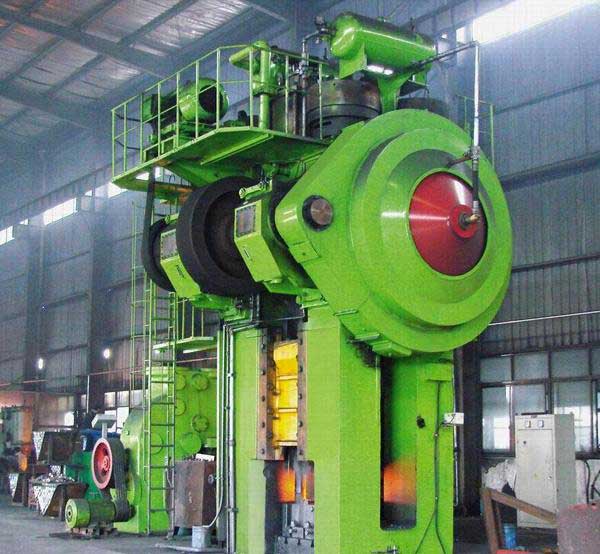 When forging, the stroke of the slider is unchanged, and each deformation step is formed under the motion of the slider, which is convenient for mechanization and automation, and has high productivity.
The slider has high motion accuracy and a forging ejection device, which reduces the die forging inclination, machining allowance and forging tolerance of the forging bead, so the forging accuracy is higher than that of the hammer die forging.
The forging force acting on the billet is static pressure rather than impact force, and the deformation speed of the billet is lower, which is beneficial to forging of low plastic materials. Some materials which are not suitable for forging on die forging hammer (such as heat resistant alloy, magnesium alloy, etc.) can be forged on hot forging press.
The working conditions are improved with less vibration and noise.
Disadvantages of hot die forging press
The main disadvantage of this die forging method is that the equipment structure is complex, the price is high, and the die structure is more complex than that of the common hammer forging die. At the same time, because the slider stroke can not be adjusted in the forging process, it can not carry out the operation of drawing, rolling extrusion and other steps which need multiple strikes to complete.
According to the above analysis and the requirements of precision die forging, it is possible to choose the right forging equipment according to the shape, material, forging amount, etc.